Authenticity. The history of the Häagen-Dazs brand.
Rebranding is very often associated with making significant changes to the way a brand communicates. This rebuilding is usually only carried out when things are really bad, the brand is sinking into crisis or its image is not keeping up with the real development of the organization and does not correspond to the current aspirations of the company.
For us, as metamorphosis designers, brand design agencies, the most important dilemma when carrying out such a change is to see the opportunity where the brand gestor usually indicates the weakest points. In addition, we also try to see the capital that the company has built up and make various innovations on this basis.
Let's take a look, then, at a brand whose history teaches us how it is possible to make a name for oneself in the marketplace through branding alone, and to remain true to its traditions and beliefs for many years. A brand that has started to reach out to younger target groups with its message through minor 'facelift' changes.
Have you heard of 'Luxury Ice Cream' – ice cream priced at €4.5 per scoop, natural ingredients and irresistible flavours? It's all about Häagen-Dazs, of course, which you can get in the company's shop on Nowy Świat in Warsaw or buy a cup in Lidl. Can you recall their taste, their price, any advertising? What do you associate the name Häagen-Dazs with?
It will probably sound decidedly foreign to most of us. It is not an Italian name, yet it is from Italy that the best desserts come. It is also not of English origin, although it is a brand from the USA. It sounds a bit Scandinavian and definitely as if the brand has been on the market for many, many years. The naming itself suggests that it's a brand with traditions. Going by this, looking at Bradley Cooper and the brown pattern on the cup, we are already slowly classifying it as a so-called high-end good. We can also assume that it is likely that her recipes stood out for something, since she has survived to this day. So many conclusions in so little content. And that is what branding is all about. This should also be the ultimate goal of branding processes. To achieve a situation in which no doubt is left behind and the brand evokes those associations among the audience that the sender planned to evoke. The name Häagen-Dazs is completely made up. It was created with the idea of creating a new category.
History of the family business
Reuben Mattus, born in Poland in a Jewish family, emigrated to the United States in the 1920s with his widowed mother Lea. They took a job at an Italian ice cream company owned by a cousin. Their work consisted primarily of squeezing lemons, which they used to make desserts, then distributing them to small shops and restaurants in the Bronx boroughs. Soon, through hard work and a frugal lifestyle, Reuben's mother opened her own business and her son took charge of the family company. Success, however, did not come easily.
After the Second World War, more and more people went shopping in grocery shops, which sprang up like the proverbial "mushrooms after the rain". Large players, suppliers with mass production capabilities were able to offer distribution chains good quality ice cream at very low prices. Mattus had a bad feeling about the rapid growth of competitors. This is a challenge he had to face by completely modifying the business model, which up to now had been built on direct sales and good relationships.
He had an idea – this time he wanted to base the business on a high-quality product. So he started by trying to convince his mother to invest in new technology, to look into improving the efficiency of the equipment used, to improve the recipes, adding high-quality cream and exotic additives to the ice cream. Unfortunately, she did not understand the need to modernise or improve the offer and refused. She insisted on changing the range of products, preferably with a chain of sweet shops or bars serving lunches.
Premium as a "cure-all"
It took the family about a decade to come to a sensible compromise. And the catalyst for change was, above all, a difficult time for the business, during which more than once, more than twice, the Mattus family got "hammered" by competitors and business giants. It's a pain probably familiar to any family business, which, once it has entered the distribution network, often has to face an environment with more capital and experience for years. We can only guess that Mattus' passion and genuine belief in his entrepreneurial genius was the only thing that saved him from giving up.
Mattus firmly believed that: "The most important thing is that the ice cream tastes good". To improve his recipes, he studied the relevant literature, experimented with new flavours, added fresh egg yolks, real cream and sophisticated additives to his products, such as Belgian chocolate, vanilla from Madagascar or Colombian coffee beans. At the same time, he remained faithful to tradition and family recipes.
The second thing Mattus repeated as he built his empire was: "It has to be done correctly". And this 'correctness' he sought until he got it right. He first set his sights on the premium ice cream segment, produced under the Ciro's brand (after the Italian name Cyrus) and boldly 'entered' grocery shops with it. The brand did quite well, recording growth for the first few years. Unfortunately, the loss of a slice of the market began to worry competitors, who reacted quite aggressively. It turned out that in the conditions in which the Mattus family had to run the company, a good product and a premium brand were definitely not enough anymore. Almost thrown out of the ice arena, he decided to create an entirely new category. To compete for a niche that he would define himself. Wiser by experience, this time he set his sights on basing the business on the brand.
Ice cream bordering on luxury
Today, the Super Ultra Premium food category probably comes as no surprise to anyone. However, before 1961, before the Häagen-Dazs brand was established, the idea certainly seemed like an audacious experiment. The key to success was naming, and Mattus added another final maxim to his two famous ones: "If you're the same as everyone else, you're doomed". And he began the search for a name for the brand that would sound foreign, strange, European.
He chose Häagen-Dazs, which is a linguistic innovation, a conglomeration of random syllables. Apparently, he wanted the name of his future empire to suggest a Danish origin. In this way, he wanted to pay tribute to the Danes for saving the Jews during the Second World War. And, according to his daughter Doris in her memoirs, it was in the Danish language that he looked for inspiration during his so-called brainstorming. Häagen-Dazs doesn't mean anything specific, it's a neologism, but it's eye-catching and, along with the strategy of a very high price tag, it's definitely unlike anything that came before. The first packaging was labelled by the owner with maps of Scandinavia, so as to leave no doubt that the product is not local. In this visual context, even today, it would seem to many Americans that Häagen-Dazs is from Sweden, Finland or Norway.
Mattus constantly, by the method of a stripped-down record, emphasised the distant and exotic origins of the ingredients used to make the ice cream (Madagascar, Belgium, Colombia). He consistently used high prices. The scoops he sold were much larger than the market size and he emphasised that they contained only 20 per cent air, while the ice creams of other producers contained up to 150. The products were quickly received positively, pigeonholed as an "unprecedented novelty" and indeed, became the start of a new category – "Luxury Ice Cream". Business grew very quickly, with customers eager to buy the new so-called high-end ice cream.
Häagen-Dazs, invites us to another world, using its unusual name to do exactly that. A world that is beautiful, but completely made-up. Can such a brand be called 'authentic'? On top of that, back in 1981, Reuben Mattus swore that the recipe for his ice cream had not changed since the 1920s and would never change. He guaranteed that the brand would remain small and family-owned, but just two years later he sold it to Pillsbury for $70 million, which gained the right to interfere with the composition of the products and immediately became interested in exporting. The giant set up his own ice cream parlours in prestigious districts of major European cities, sold his products in common shop chains, and fortunately retained the brand positioning. Reuben and his wife Rose retained consultant positions in the company until the brand was taken over by Grand Metropolitan. Häagen-Dazs is now owned by General Mills, one of America's largest food manufacturers, which has recognised the efforts of the brand's previous owners and made its authentic values of tradition, craftsmanship and high quality even more prominent.
Refreshing to new brand audiences
In 2017, after almost 60 years in the market, the company underwent its first ever refresh, so as to modernise its layout and appeal to a younger audience, known as Millenials. The fact that it did not make many changes is testament to its strength and underlines the strategic sense of its creator. The campaign reverberated with a slogan ('Make every day extraordinary' ('Say Hello to Extraordinary'). This is a completely second communication pole compared to what slogans have been used in the past: "Nothing tastes better than the real thing", "100% perfection" or "Made like no other".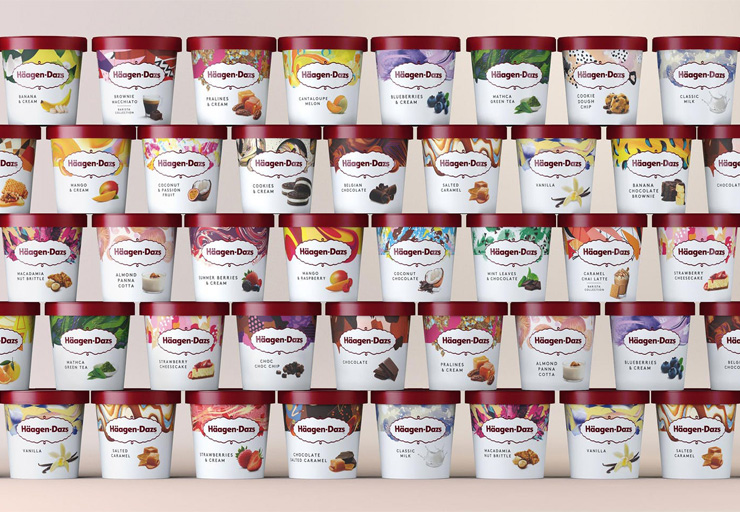 From being a traditional, classic, desirable brand, Häagen-Dazs began to appear modern, approachable and much younger. It was a direct appeal to those in the 18-24 group, where the leader until then had been the Ben & Jerry's brand, owned by giant Unilever. Niche artists from around the world were invited to create the graphics for the packaging, each of whom was asked to sample 46 flavours offered by the brand and then illustrate their chosen compositions. The result was ice cream on a stick, challenging the hitherto unrivalled Magnum (also owned by Unilever). Challenger was smaller (mini version) and healthier, in the trend of so-called natural ice creams.
At the same time, references to the brand's heritage, including founder Reuben Mattus himself, were not forgotten. The brand's controversial ritual, consuming ice cream with a finger instead of eating it with a spoon, continued. The brand did not stop emphasising that its ice creams contain natural ingredients and enumerated what you definitely won't find in them: emulsifiers, preservatives or stabilisers.
Jennifer Jorgensen, vice president and chief marketing officer of Häagen-Dazs, confessed in an interview with US Business Insider: "The world of luxury is changing. It is no longer so much about demonstrative consumption, but rather about authenticity and the story behind the brand." And indeed, the brand has gone from a classic 'look and feel' to mugs that are bright and colourful, designed to be photographed well on Instagram. At the same time, it has not lost what constitutes its credibility, namely taste and high quality. These are experienced not only in the process of consuming the brand's products, but also at every point of contact, through design. Today, with a presence in more than 70 countries, Häagen-Dazs remains the leader in the frozen speciality segment and has been the crème de la crème of the ice cream world for more than 50 years.
What else can we learn from the Häagen-Dazs story? What lessons can a brand facing a refresh of its image or the addition of a new target group learn? What should brands planning to expand internationally, into countries where people remain visually more sensitive and both the idea and its translation into design must be world-class?
1. NORROW POSITIONING – a lesson for NEW BRAND
How we market a product matters. There are certain activities assigned to each phase of a brand's life that are a priority. They are crucial to its development at any given time and necessary for the business to ultimately be based on it (not just sales). A brand at the time of launch must be given a narrow positioning. Otherwise, it will not be noticed, accepted and will not move on to the next stage of development (the confirmation phase and then consolidation). We are left "in the lurch", like Mattus with the mediocre Ciro's brand, and all that is left is to invest in sales activations and fight the business giants for survival.
Narrow positioning is not about extensive strategies, comprehensive market research or target groups, sometimes a name and a good label that corresponds to the physical characteristics of the product is enough, in a very experimental approach (this was the case with the Häagen-Dazs brand). However, if expressive codification is lacking, the purchase of the product will be the result of sales activations rather than slowly shaped brand strength. The company loses the opportunity for success.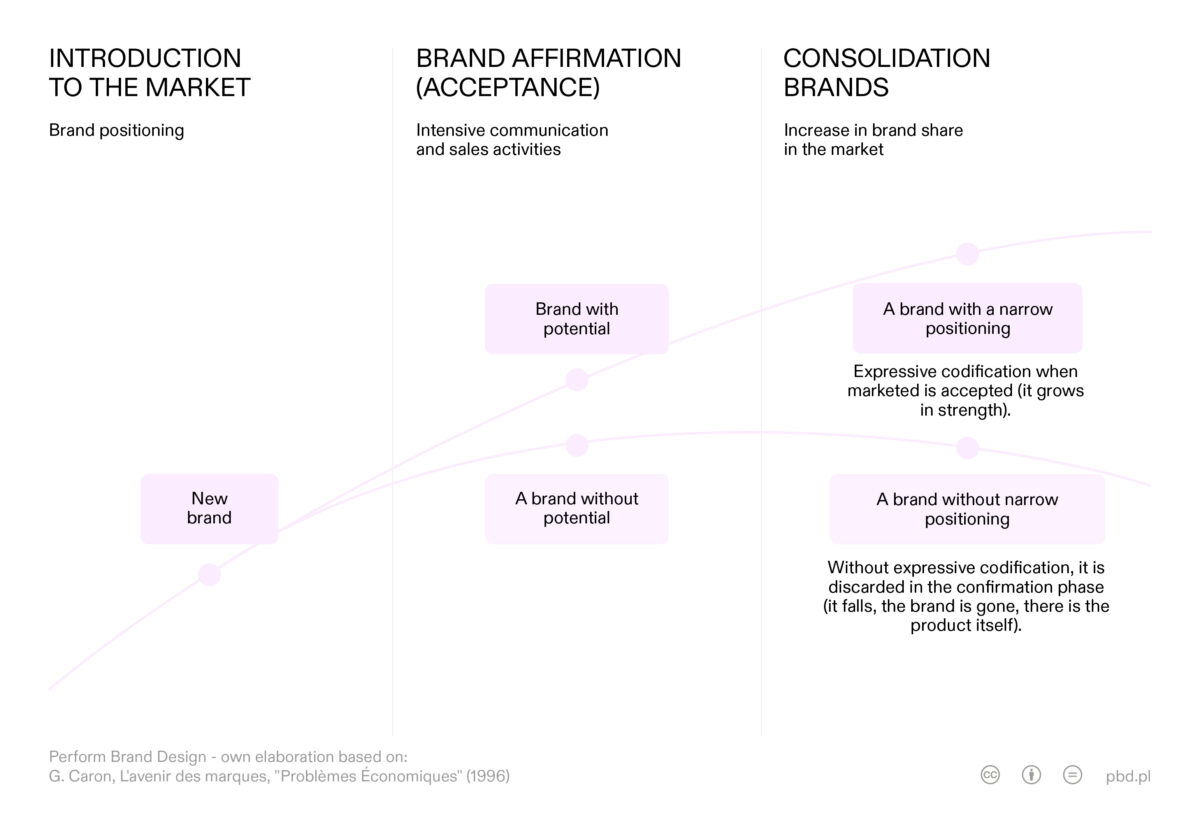 2. RESPECT THE ROOTS – A LESSON FOR THE BRAND BEFORE CHANGE
Branding always starts with the product, while rebranding starts with an audit. The first step of any change is to define the context in which we will work. First a study, a diagnosis, a brief, then proposals for tidying up the image. The role of the agency responsible for the changes is to bring out what is good in the brand (forgotten ideas, images, stories and slogans), because very often it happens that the management or marketing employees are not able to look objectively at the capital that the brand has developed. And all they notice is that it is no longer well received. Outsiders are most often able to draw attention precisely to the assets, including the visual ones, and make everyone aware of how they can still be used wisely and well (e.g.: by designing a font based on the brand's visual codes used to date). On the strategic aspect, it can be helpful to plan for change from a today-tomorrow-tomorrow perspective.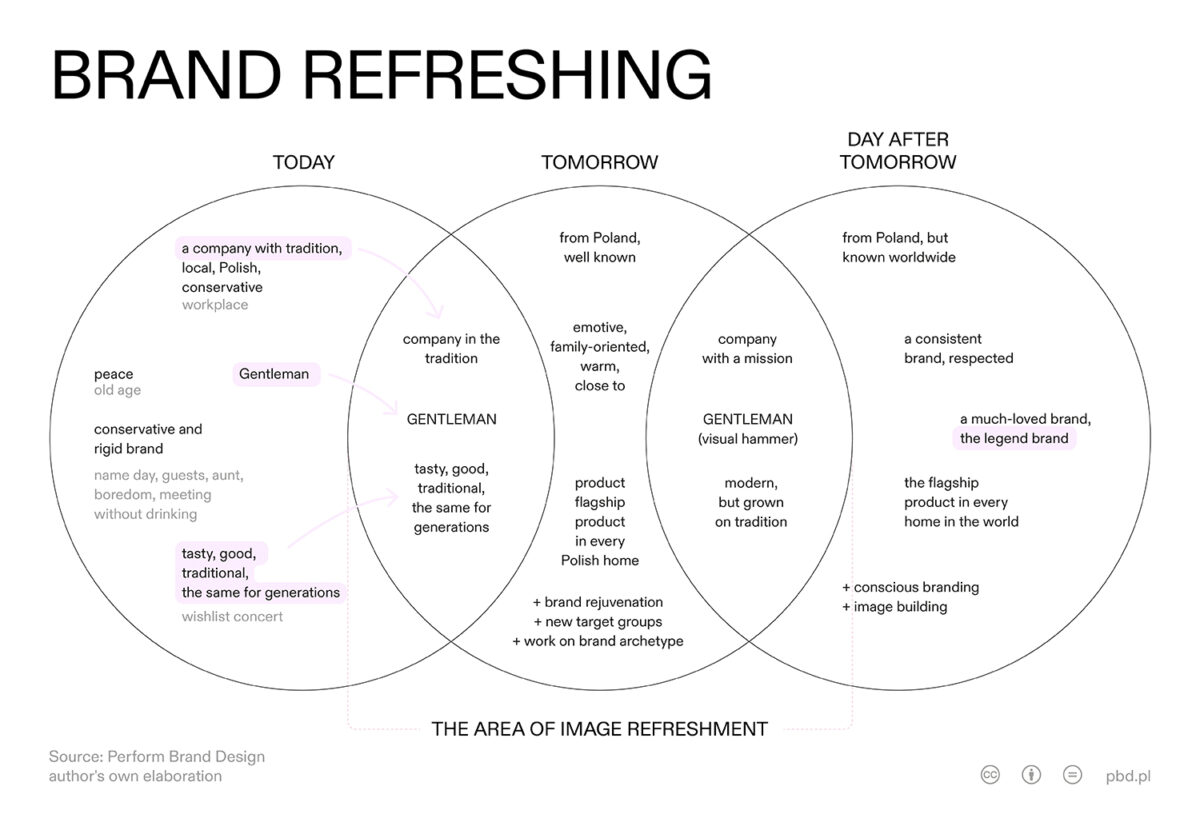 The "today" circle includes how the brand is perceived right now (mostly conclusions drawn from image research). In the 'tomorrow' circle, on the other hand, everything that is distinctive and unique about the brand. Supported, of course, by examples of specific marketing materials and a visual identity system. (Note: It is not the circles that are the strategy, it is the design that is the strategy – what matters is how the brand looks and how its communication is interpreted by the consumer, not what a strategist, inspired by the brand, has written into the table. It is very easy to fall into the trap of separating brand identity from brand image).
Above is an example of what a completed tool might look like for a Polish company operating in a similar area to Häagen-Dazs (sweets, desserts, cakes, chocolate, candies), which has been on the market for many years, but at some stage its brand stopped growing.
3. DEFINE YOUR AUTHENTICITY – a lesson for THE BRAND IN DEVELOPMENT
Refreshing should always be carried out with special attention and absolute respect for the legacy that the company has developed over the years of its activities in the market. Only such an approach will allow you to strengthen the bonds already built with your existing customers, and influence the acquisition of new ones (e.g.: by targeting new target groups with your communications). Brand authenticity is, in our view, about keeping your word and doing what you promised. It's not necessarily about 'being who you are' and taking 'hand-held' videos of how the warehouse employees actually pack parcels, send parcels and how they behave during breaks. After all, literally, Häagen-Dazs is the success story of an American ice cream brand with a Danish-sounding name, an Italian recipe, originating from an immigrant from Poland of Jewish origin. How does one bear the 'authenticity' of this kind of confusion with confusion?
To repeat after Mattus: "The most important thing is that the ice cream tastes good". He developed a flagship product – three iconic flavours: vanilla, chocolate and coffee. He gave them an outlandish name and dressed them up with a visual identity signalling the top end of the price range. The promise he made was the highest quality ingredients in each successive cup. That's all there is to it, and that's all there is to it. And although the graphic design and key communication messages are changing, the principle of 'luxury ice cream' has remained unchanged on all three levels: product, visual and verbal.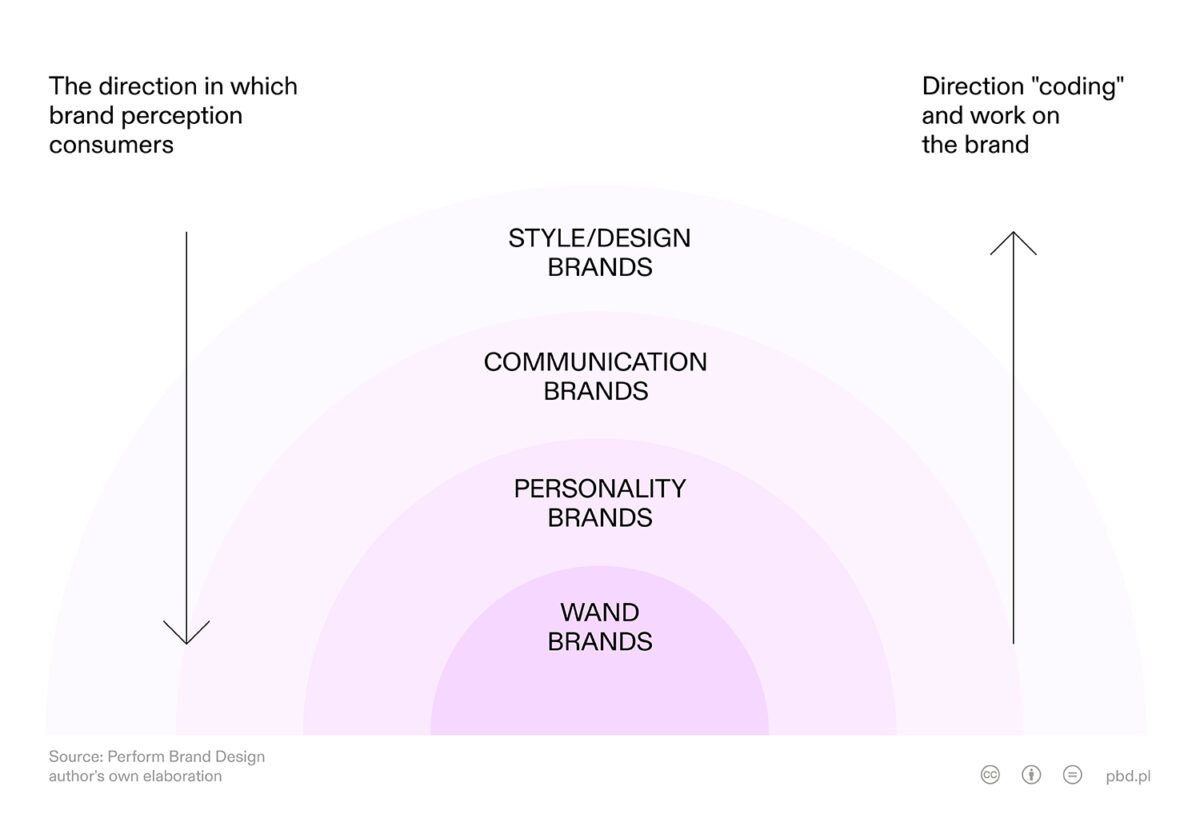 And to this day Häagen-Dazs has not broken its word to us. Egg yolks, skimmed milk, cream, sugar and additives from all over the world are still used. Each flavour represents a specific country, which is how the brand architecture was planned, e.g.: chocolate flavour – Belgium, mango – India, macadamia – Australia, dulce de leche – Argentina, and strawberry – Poland, because it is Poland that has the sweetest and most fragrant strawberries in the world. And while various other products have appeared over the years (bars, sorbets, surprising flavours), they have always remained of high quality. And the brand? Creating a story around a product is not a lie and a lack of authenticity, it is allowed, even encouraged. Who among us doesn't smile at the thought that his or her chocolate comes from Alpine milk from a purple cow, when it is always milky, delicate and in purple packaging?
If the brand gestor does not decide what and how his brand should communicate, he relies on chance and a constant battle through sales. If the brand itself does not set its own standards, does not dictate how it should be treated, unfortunately, in the competitive world of strong brands, it has little chance of spectacular success. These are the basic laws of branding, which the brilliant entrepreneur, creator of the Häagen-Dazs brand, understood perfectly. Presented in a short slogan as 'Irresistible Flavours'.
Questions to ask yourself:
What is my brand promise always kept?
Am I aiming for consumers to consciously and unconsciously associate it with one specific product concept, verbal and visual?
Do I regularly check how 'they' see my brand?